Domestic Asbestos Surveys
A domestic asbestos survey may be required if refurbishment works are due to take place at a property and the substance is suspected to be present.
Merryhill often carry out asbestos surveys in houses, flats and apartments if building materials are suspected to contain the material.
Asbestos was a commonly used building material in both commercial and domestic buildings throughout most of the 20th Century. Banned in 1999, asbestos should be assumed to be present if the building was constructed before the year 2000.
If you suspect a material contains asbestos, then unless it requires removing or disturbing, then a survey / any sampling is not required. There are currently no laws which apply to home owners in terms of having a duty to manage asbestos in a residential property.
If you are having refurbishment works carried out in a particular room and suspect asbestos to be present, then samples can be taken by one of our surveyors and analysed in an independent laboratory. Note that if you suspect asbestos to be present and are employing a contractor to carry out refurbishments on your behalf, then they should be informed prior to any works beginning. This is to ensure that asbestos is not disturbed or that an appropriate risk assessment is carried out.
Note that some contractors may not wish to work if asbestos is known / presumed to be present. This is only usually the case if the material will likely be disturbed as a result of the refurbishment works. In this case, the material can either be removed by the householder or by a specialist asbestos removal contractor.
Note that some of the more dangerous types of asbestos must be removed using a licensed asbestos removal contractor. A full list of licensed contracts is available on the HSE website.
Due to its versatility, asbestos can be found in many different places in domestic properties. The most common areas are kitchens, bathrooms, garages/sheds, lofts and basements, although asbestos could be found potentially in any room in the form of flooring and ceilings. Asbestos materials can also be found on the outside of a property in the form of soffits, porches, rainwater goods and firebreaks.
A domestic asbestos survey can help give you peace of mind should you believe your property to contain asbestos.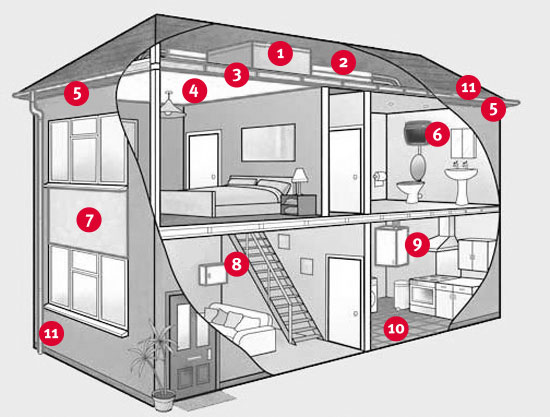 Water Tank – Some were manufactured using asbestos cement. Often found in older properties (pre 1980).
Pipe Lagging – Asbestos insulation on pipes. Used to keep heat in or cold out. Often painted over or protected by outer coating so not obviously asbestos.
Property Insulation – Loose asbestos can be found as insulation in wall and floor cavities and in lofts.
Textured coating (eg Artex) – Can be found throughout property on ceilings and sometimes walls.
Soffit Board (roof overhang) – Soffit board sits behind fascia at eaves level. Board can be made from asbestos cement or asbestos insulating board.
Toilet cistern – Toilet cisterns can contain asbestos-reinforced resin composite materials.
Wall Panelling – Asbestos can be found as external wall cladding and as internal wall panelling both particularly around windows.
Fuse box – Often found in hall or under stairs. In older boxes, each fuse wire may have an individual asbestos flash guard. The panel behind fuse box can also contain asbestos.
Heater Cupboard – Heater cupboards around domestic boilers often contains asbestos insulating board. Older gas boilers may also have an asbestos flue pipe.
Floor tiles – Vinyl and thermoplastic floor tiles can contain asbestos. The tile backing may also contain asbestos paper.
Rainwater items – Roof gutters and down pipes can often be made of asbestos cement.